Anyone feel like E3 2015 just couldn't get started early enough this year? From companies announcing their biggest gaming titles just weeks before the event to 'pre-E3' shows stacking up half a week prior to kickoff, this June feels like more E3 than not. But that's certainly not a bad thing, particularly when you've got an entirely new platform chomping at the bit to get some attention—namely, virtual reality. With 2016 set to be the pivotal year for the tech, everyone's gearing up for the first consumer VR products, and despite unanticipated competition from HTC, the Facebook-owned Oculus remains front-and-center as one of the most hotly-anticipated gaming peripherals ever made.
It's been a long wait, but at last the Oculus Rift is coming out in earnest early next year for its full consumer release, and today's pre-E3 Oculus event gave the world its first taste of what to expect when the day finally arrives.

While we've known for a while what the final version of the Oculus Rift would look like, it certainly cuts a striking figure in-person. It's compact, it's lightweight, it's futuristic, and about as premium and stylish as a pair of VR goggles is going to get. While Oculus declined to lug out a headset with all the cables connected, all things considered it's impressive how far the hardware has come from an aesthetic standpoint, and this is one case where aesthetics directly translate into usability. The Rift assumes the user will be sticking around for a while, so it has to be comfortable to wear for long periods of time on a variety of head shapes and sizes.
What is news about the hardware itself is that it now features two OLED screens inside (same as the HTC Vive) versus the single, continuous display of previous developer models. While no exact resolution was given, it was implied the displays are higher resolution too. "...As you look around, there's no motion blur, there's no jutter, there's no pixels. You're really there," said Oculus VR's CEO, Brenden Iribe. It was also revealed that the internal tracking system introduced with the Crystal Cove prototype has been refined for the consumer Rift, and will have the capability to expand into other uses as well, allowing for tracking of real-world objects, perhaps a bit like the HTC Vive's 'Lighthouse' tracking system. Unlike the Vive, however, the Rift operates on a sole tracking base shaped like a miniature microphone intended to be positioned beside the computer being played on. It's about as subtle a peripheral as could be hoped for, and it will apparently be sensitive enough to allow for both sitting and standing, though freedom of movement is still a rather limited part of the experience.

Audio was also briefly highlighted at the Oculus event, showcasing the HMD's built-in headphones which are designed to provide the best possible spatial 3D audio. While they do have the additional advantage of being integrated right into the unit, they will be removable for anyone who prefers to use their own pair of cans. Another peripheral to be packed in the box is, oddly enough, nothing new at all, but something many gamers already have: a wireless Xbox One controller. As part of its partnership with Microsoft, Oculus will be including one with every consumer Rift, along with an adapter to allow the controller to be used with a Windows PC, specifically running Windows 10 with DirectX 12. No, it might not be the most apt tool for virtual reality, but as founder Palmer Luckey commented, it "just is" the best way to play most games currently out there, and it's something developers and consumers alike are familiar and comfortable with. Microsoft Head of Xbox, Phil Spencer, also took to the stage to announce that Xbox One streaming to PC will be Rift-compatible as well...though it's not quite what you might think. Rather than enable virtual reality gaming on the Xbox One, Xbox streaming to the Rift will only work in a 'virtual theater'-type setting, essentially the same as playing on a massive projector screen. While there's certainly something to be said for using the Rift for big-screen 2D experiences, it's clearly not the selling point of the device. It's likely the Xbox One hardware isn't capable of pumping out the sort of visuals virtual reality demands, but a partnership with Microsoft is still a big deal for Oculus for other reasons. The Rift is a platform unto itself, no doubt about it, yet it is also dependent on separate hardware to actually generate the experience it aims to deliver, and that adds a third-party operating system into the picture. With Microsoft fully on-board and planting Windows 10 squarely behind VR we can look forward to the best possible marriage of virtual reality hardware and software—which is key to the overall experience.

But the partnerships don't stop there: in addition to Microsoft, Oculus has also managed to snag support from over 15 development houses represented on-stage at E3, ranging from big names like Square Enix and Insomniac to smaller studios like Gunfire Games and Sanzaru. Support for the Rift has hardly ever been sparse, but it's still encouraging to see such declarations of support a full year before launch. Oculus is aiming to have a full catalog of experiences available out-of-the-box, accessible via the headset's own 'Home' application, similar the interfaces found on traditional gaming platforms like the Xbox and Playstation, or even Steam running in Big Picture Mode. Like these other devices and services, Oculus will have its own store for virtual reality content, though you will of course be able to use the device with VR-supported titles on other distribution platforms.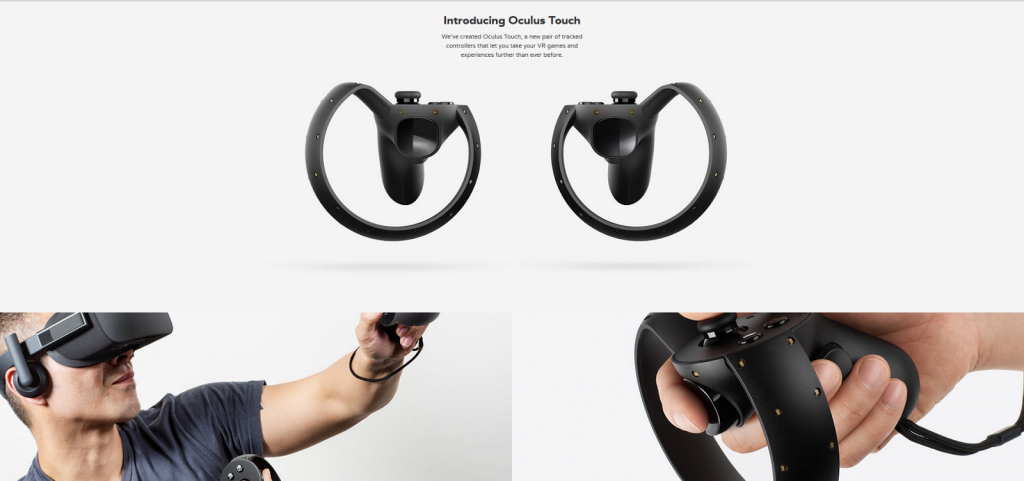 Last but certainly not least is the main elephant in the room, the newly-unveiled Oculus Touch, codenamed 'Half-moon'. "Input is hard," said CEO Iribe, "...but we got it right." The Touch is a pair of controllers that both sense hand and individual finger movements as well as provide a set of analog sticks and digital buttons to emulate traditional controllers as closely as possible while still offering motion-sensing features meaningful to virtual reality. The controllers operate on the same tracking station as the Rift headset itself, and enable reaching out and interacting with the environment directly, combined with haptic feedback to give the user a sense of actually touching virtual objects. Though it was not said whether Oculus Touch would ship alongside the consumer Oculus Rift, it will likely be a separate product optional to those who can't afford them or prefer a traditional gamepad. By and large motion-controlled gaming has fallen out of style over the past few years, but the controllers' existence is still significant for Oculus as a competitor to HTC, and for enabling the greatest possible immersion for those who want it.
No exact price or release date was given for the Oculus Rift, however the device is set to release in the first quarter of next year for something in the $200-400 price range, and both the headset and the controllers will be on demo at E3 all of next week.