Microsoft Plus! was a series of bonus feature packages produced for various editions of Windows beginning with 95 and ending with XP. It hails from an era when collections of themes, utilities, and games could not easily be downloaded from the internet, and served essentially as an advertisement for the World Wide Web itself. "Like what you see? There's more on the internet!" was often Plus's call to action, and it was magical.
While not all of Plus's contents have aged particularly well, some components--its games in particular--became instant cult classics for anyone fortunate enough to grow up with them. Unfortunately, they're also difficult to access thanks to install CD checks preventing Plus! from running on all but specific, now unsupported editions of Windows.
That is, until now!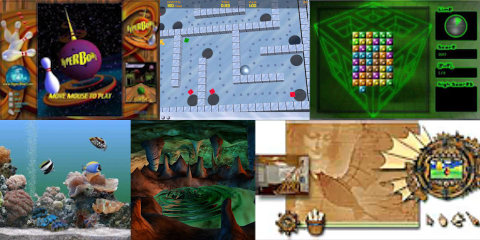 About
On this page you'll find repackaged versions of Microsoft Plus! with their installers patched to remove all artificial restrictions on OS versions and CPU architectures. Despite its age, Plus! remains surprisingly compatible with modern Windows. Aside from extensions to the operating system itself, you can still use the old themes, wallpapers, icons, screensavers, cursors, utilities, and yes, games! This includes the classic HyperBowl, Labyrinth, and Russian Square, two of which were never released outside of Plus!
In addition, for the sake of preservation, I've included an Extras folder containing the Labyrinth addon levels advertised on the exit screen (also patched!) and the legendary 3D Space Cadet Pinball (originally released in Plus! 95). While rumors suggest the game was removed from Windows due to unsolvable bugs during a port to 64-bit, the original x86 version ironically works flawlessly even on 64-bit Windows.
Download
Download Microsoft Plus! XP (Patched)
Honorable Mentions
The legend of Plus! extends beyond just my own nostalgia, and as it turns out, I'm not the only one who's been at work keeping the package alive!
HyperBowl Unity
Like Labyrinth, HyperBowl advertises additional lanes available for download online. While I had intended to include these in my package, I was instead pleased to discover that the entire game has been officially re-released on Itch.io as both a free download of the original and a rebuilt version for modern devices (mobile included!). I would highly recommend checking it out and tossing a (optional) donation the creator's way for their own preservation efforts!
3D Space Cadet Pinball Decompilation
The rumors of Space Cadet Pinball's demise may be less than the truth, but thanks to k4zmu2a on GitHub, the source code no longer has to languish in mystery! The decompilation project makes it possible to build new binaries of Pinball for new systems--Windows and otherwise. There's even a port for the PlayStation Vita! If you're looking for the most modern way to play, this is it.