Ok, quick history lesson: the date is May 8, 2006. The event: the annual Electronic Entertainment Expo, or E3. In many ways, it was a different world from the one in which we live to day. Tablets were just a failing experiment of Microsoft's, the iPhone wouldn't be released for another year, and high-definition TV was a new concept for consumers. YouTube was only just learning to crawl, and Facebook wouldn't open to the public for another four months. Yes, it's hard to believe, but we've very much stepped into a new decade since then. But even so, it was this world, not our own, that planted one particular seed we are only just beginning to see budding this spring.
Ok, quick history lesson: the date is May 8, 2006. The event: the annual Electronic Entertainment Expo, or E3. In many ways, it was a different world from the one in which we live to day. Tablets were just a failing experiment of Microsoft's, the iPhone wouldn't be released for another year, and high-definition TV was a new concept for consumers. YouTube was only just learning to crawl, and Facebook wouldn't open to the public for another four months. Yes, it's hard to believe, but we've very much stepped into a new decade since then. But even so, it was this world, not our own, that planted one particular seed we are only just beginning to see budding this spring.
In the end, of those titles, only Final Fantasy XIII worked out as planned, yet those plans finally materialized later in 2010 only to be met with near-universal disappointment from fans. Meanwhile the vision for Agito XIII was dubbed too grand for the mobile phones of the day and the project ended up being shifted to the PSP, on which it finally arrived as Final Fantasy Type-0 in 2011…just before the unveiling of the Playstation Vita, squashing any chances of it being localized outside of Japan. For its part Final Fantasy Versus XIII faithfully reappeared at every major gaming convention in the years hence…yet never showed any signs of actually progressing in development. Somehow Final Fantasy XIII managed to spawn not one, but two sequels throughout this whole process, but ultimately rather than redeem the few missteps of the original, they only managed to drive the sub-series into steadily worse favor.
Yes, the original trilogy of Final Fantasy XIII was created as part of a very different world compared to today. But the important thing is, that difference in worlds works both ways, and the Square Enix of today would seem to rather you just forget about the Square Enix of yesterday.
As of this Tuesday, March 17, Final Fantasy Type-0 HD is available in English on both the Playstation 4 and Xbox One, and while the title may acknowledge it is indeed a remaster of a previous release, it's hardly being marketed as a classic reborn. Instead, it's being used as an opportunity, the gateway to a new beginning both for Square Enix as a company, and Final Fantasy as a series. And here to prove it is not Type-0 only, but a pack-in demo of Final Fantasy XV, the ultimate and final form of the long-gestating Final Fantasy Versus XIII.
Just let that sink in a bit: a game that was announced nearly a decade ago for the then-brand-new Playstation 3 has now skipped a console generation entirely, and if you act fast, you can play a piece of it right now.
Thus it was a little surreal booting up Final Fantasy XV: Episode Duscae for the first time. It felt like it should have been some major event that I planned on weeks in advance. But instead I just casually flicked my Dualshock 4's X button almost on a whim and dove without anticipation into this world gamers have been waiting for so long to experience. It was almost like it was a moment so long in coming I had ceased to expect it ever to be real. But then the initial prompts appeared on screen, asking for preferences on language and audio options. And then the real menu appeared. And it began playing a tune I only barely recalled, a piece only featured in the background of a Final Fantasy Versus XIII teaser that is itself now a number of years old. But it also featured something else much more familiar: that same iconic pointing finger icon that Final Fantasy menus have used practically since the beginning. It was also something clearly new and unique as well, an instantly obvious departure from what we've known Final Fantasy menus to be in the past.
Such is the sum of Final Fantasy XV: Episode Duscae: it is a mix of the new, the old reborn, and the classic paid homage. And while it's clear the past nine years haven't gone to waste, it's also a bit concerning to see just how many wrinkles in the system still need ironing out.
First, the good:
Designed to Impress
To a certain degree, Final Fantasy has always been about being a little mind-blowing. While Final Fantasy XV will do so in more ways than its feature-limited demo, there are still plenty of reasons to be impressed with Episode Duscae. As the tagline says, this is a fantasy based on reality, and the marriage of those two elements became clearer and clearer the further into the demo I went. At the onset I found myself impressed with how believable the opening segment was, showing a small group of boys-barely-turned-men reluctantly rolling out of bed to the incessant blaring of a smartphone alarm. Then as they stumbled outside, still a bit bleary-eyed, I saw a surreal landscape much like the earth we know, but with a few twists. Then as the introductory combat tutorial kicked in, I was thrust into a sparring match complete with teleportation and weapons that magically appear out of thin air on-demand. There's something of a satisfying rush to this sort of progression from the realistic to the fantastic. It's impossible to take the fantasy aspects of Final Fantasy XV for granted when so much of the surrounding world is anchored in reality. And this feeling only intensifies the deeper you go. A number of the creatures you'll encounter directly correlate to some real-life creature without ever outright imitating the real thing. You accept their presence in Final Fantasy XV because you accept the reality of wolves, elephants, and so forth. These kinds of half-real creatures then act as a medium between the player and the more fantastical creatures, giving even the strangest a sense of solidity, believability, and ominousness.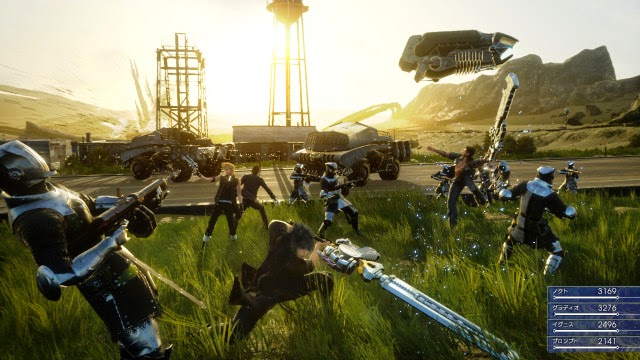 It gets better when you start engaging these creatures, too. The main cast of Final Fantasy XV has some of the most natural animations ever seen in a game. Sure, straight-up motion capture is nothing new, but we've never seen it blended with real-time, unscripted animation quite like this before—just another way fantasy is mixed with reality, I suppose, in a very literal sense. Characters will stop to catch their breath after running for a brief sprint, help each other up when fallen, and freely browse any shops you might stop by with seemingly genuine interest. And if somebody gets sidetracked checking out the shelves, another character will call and wave to get their attention so they aren't left behind as the crew departs for another adventure. In short, your companions feel human, and before long you'll easily be caught up in the game's road trip plot as if you really were on a trek together.
Still a Game
But more importantly, Final Fantasy XV doesn't forget something that many similarly impressive games do: the fact that this is still a game. Contrary to Final Fantasy XIII, which was basically a one-way street from start to finish, Final Fantasy XV requires real effort from the player and only ever suggests what they do next. Major story events play out linearly of course, but by no means is that a bad thing, especially considering it's up to the player to decide when to trigger them. The game also remains distinctly 'Final Fantasy' in its RPG systems, from earning experience points to finding hidden valuable items to amassing Gil to building a well-rounded inventory of supplies and navigating menus to use them in battle. Combat is a bit like a mix of Kingdom Hearts and Final Fantasy XII, and let me tell you, it's not easy. You may find yourself feeling pretty comfortable with your abilities while taking on just one or two enemies, but wait until you're dropped into a swarm of attackers—and you will be—and Final Fantasy XV will be sure to keep you humble. We're not talking Dark Souls by any means, but this is definitely one of the most challenging Final Fantasy games in recent history, harkening back to the old days when wandering into the wrong forest unprepared was a surefire recipe for disaster. In fact, nods to the series' roots are everywhere, from the return of Phoenix Down to the classic level-up tune to the Chocobo theme song. Not only are we talking an actual game instead of a sightseeing tour, we're talking something that clearly remembers it is Final Fantasy.
A Long Road Ahead
All that being said, despite having a decade to work out the details, Final Fantasy XV: Episode Duscae is far from perfect. Graphical glitches abound, mostly having to do with physics simulations gone wrong. The open world sometimes feels a little simplistic by new-gen standards. And in the meantime the game runs at 900p on PS4 and a mere 720p on Xbox One and still stutters a bit while level streaming. But even more egregious than simple cosmetic issues (which are actually very forgivable) is the way the game controls. The control scheme doesn't pull from either action or RPG conventions, which itself is fine, but by doing away with any sort of tried-and-true formula the game opens itself up for a number of new complications that haven't had a chance to be perfected yet. The biggest offender here is the targeting system. Early on it's unpredictable at best and outright doesn't function as expected at worst. Part of this is only due to the demo's limited tutorials, but there's something to be said for designing a system that comes naturally, and this one definitely does not. Instead it feels like it could serve its purpose, but the proper technique is too complex to explain in a tutorial so it was just left more or less unexplained instead. According to the opening segment of Episode Duscae, all you have to do is 'Hold R1 to target'. Only you don't merely hold R1 to target. You hold R1 for a few seconds to target, using the right stick to switch between targeting options, then release, and then click R3 to lock the camera on to the chosen target if you wish. While there are visual indicators throughout the process, they are quite subtle and can easily go unnoticed while still learning the ropes.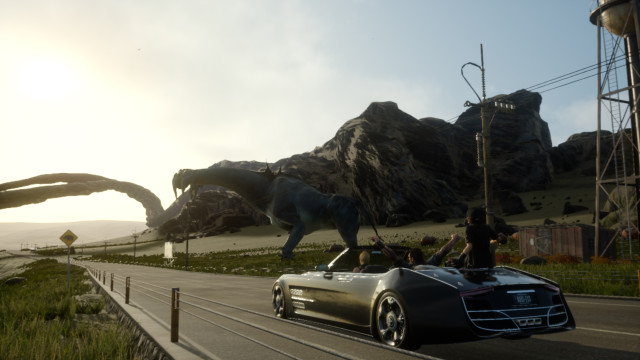 Proper defense also seems nearly impossible at times, with the time window and necessary conditions for parrying so narrow you'll need a few hours of experience before you can even hope to pull it off with any reliability. Square Enix clearly intended this move to be difficult, considering the number of successful parries is its own post-battle statistic, but in its current state it's more likely to just go unused by most players. Basic dodging isn't entirely straightforward either when dealing with multiple enemies, but becomes easier to use with time. The persisting issue here is that this sort of defense pulls from the same MP pool as magic and skill attacks, heavily restricting opportunities to pull off more interesting moves until the characters have leveled up quite a bit.
All of this gets better with time and experience, but the fact remains that first impressions of combat in Final Fantasy XV are likely to be a bit bewildering and frustrating for some players, particularly when compared side by side to Type-0's tight and engaging battle system. But the underpinning theme here is still experience—Final Fantasy XV's combat may come with a learning curve, but that doesn't mean players will never reach the top and master it. In the meantime it may not be the most enthralling, but thankfully neither is it infuriating. It's just…awkward.
Worth the Hype
2015 was the year we hoped to see Final Fantasy XV. In a sense, Square Enix delivered on that hope. But it's clear now with a small piece of the game in our hands that this one still has at least another year to go. The kicker? It will be worth waiting for the developers to get it right. In the grand scheme of things, Episode Duscae's problems, though evident, do not ruin the game, and most of them are promised to be corrected in the final release. The demo itself is already engaging, fun, challenging, and impressive in many respects. Final Fantasy XV on the whole will add to that a whole lot more environments, a deep story, more combat and travel options, and much, much more. It's the largest scale Final Fantasy title in existence, and set to be a hallmark of eighth generation consoles. Despite having a decade of press built up behind it, playing Episode Duscae for myself still felt fresh and unique, and still felt like Final Fantasy.
It's important to remember that what we have now is only a taste—and a good one, at that. If Square Enix can actually manage to achieve their ambitions in their entirety, console gamers are shortly to be in for one amazing ride.