It's been some time since we last saw a major step forward for laptops in the 12-13″ range. Initially the form factor was the sole territory of low-powered netbooks, but then in 2009 Intel and NVIDIA teamed up for a one-two punch with the Atom and ION chips, offering then-unparallelled performance for such small packages, and soon after Intel joined the graphics game with their own Intel HD chipsets. In the years since we've seen upgrades only trickle in, with each successive model being an appreciable step up from the last, but never enough to justify the cost of upgrading from similar products. While netbooks stopped being called netbooks, the product category remained and simply fell into a new niche as super cheap ultraportables without substantially more grunt than their original predecessors.
Put simply, another major step forward for 12-13″ laptops has been a long time in coming. And with Intel's new Core M processor, that step up is finally here. It's the chipset that Apple will be using in their next 12″ MacBook, and while a few Windows machines have already shipped with it, Asus's Transformer Book T300 Chi could perhaps be considered the current Core M flagship. It's also a direct competitor to Microsoft's Surface Pro line, and unless Redmond has some serious enhancements planned for the Surface Pro 4, Asus may just have the advantage in this race.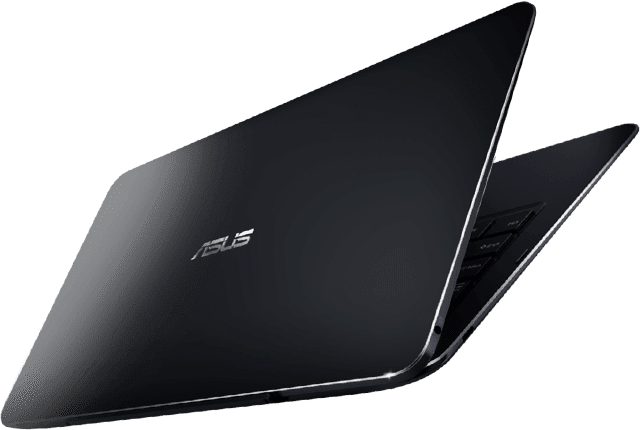 A 2-in-1 That's More 1 Than 2
Asus's Transformer line has always been about covering as many form factors as possible in a single product, and in the past they've done so with varying degrees of success. Early releases looked more like prototypes—neat concepts that were just too clunky in real life. However, with the Transformer Book T300 Chi it's clear that awkward stage is over, and the Transformer has matured into a really polished, and more importantly really usable 2-in-1.
While the T300 is still technically a tablet with a keyboard dock both halves are included in the same box and are even pre-assembled, so if you wanted to you could forget this thing isn't actually a laptop. Both components are well-designed, made of sleek aluminum and attached by a pair of magnetized tongs with just the right amount of force to hold together through any jostling you may throw at the device and yet not so strong of a connection that separating the tablet from the dock presents any difficulty. Unfortunately every surface on the T300 is a horrible fingerprint magnet, but Asus is at least kind enough to include a pretty effective dry cleaning cloth to alleviate the issue.
The tablet itself is a 12.5 x 7.5 x 0.3 inch affair with either a 1080p or 1440p IPS display (depending on your configuration), packing either 4GB or 8GB of RAM and a 128GB SSD, expandable by way of a MicroSD slot tucked away on the bottom of the device. While the tablet's thinness prevents it from having any full-sized ports, it does pack a micro-USB 2.0 and 3.0 port as well as micro-HDMI, and includes both an adapter for full-sized USB devices and a micro-USB to micro-USB cable for direct connections to anything that supports it (e.g. the keyboard dock, smartphones, or new-gen game controllers). In my experience dealing with the smaller ports is really not as big an inconvenience as it sounds, and the tradeoff in thinness is well worth the sacrifice. At just 1.3 pounds, the device is light enough to comfortably use as a tablet, and even fits in the hands surprisingly well for having a 12.5″ display. It's definitely no Nexus 7, but neither is it meant to be used like one.
For its part, the keyboard dock weighs in at 1.6 pounds and is completely wireless, meaning it needs juice of its own even when the tablet is docked inside. Like micro-USB, on paper it sounds like an annoyance, but in practice doesn't really detract from the user experience. The dock's battery can easily last a full three weeks—longer if you don't depend on the T300 as your main computer—and only takes about an hour to get a solid charge, which it does via micro-USB. And of course if it does happen to die in the middle of a long flight or road trip, the tablet is fully touch-enabled—even the UEFI setup menu—and can manage without it. But the thing that's truly great about the keyboard dock is that it actually supports the tablet (no stupid kickstands necessary) and can be attached forwards or backwards, making the Transformer Book T300 Chi every bit as agile as a Lenovo Yoga. That is, it can be used in standard laptop configuration, tablet configuration with or without the keyboard wrapped around back, stand mode, or tent mode. It might sound like a bit of a gimmick, but I actually find myself frequently changing configurations to whatever is most convenient for the situation or task at hand. Whenever the keyboard isn't really needed, it's nice to have it serve as a stand and yet be out of the way, putting all the focus on the screen instead.
Transformative Performance
But again, Asus's Transformer form factor isn't the only thing to have evolved over the last several years—ultraportable processor technology has too, and the new tech featured in the Core M processor really shines. The Transformer Book T300 Chi offers configurations with the Intel Core M 5Y10 on the low end and Core M 5Y71 on the high end, both accompanied by Intel HD 5300 graphics. Performance between the two isn't significantly different, but if the higher end model is within your budget you will get a slight edge on performance for the extra cash. In any case, both processors operate on the principle of heavy speed scaling, starting at super low frequencies like 800MHz and 1.2GHz, respectively and only ramping up to 2.0GHz and 2.9GHz when the task demands it. Now in a vacuum that's all well and good, but as these are fanless devices they experience pretty significant changes in internal temperature the harder and longer the processor is stressed, leading to it scaling back down over time to self-protect from overheating. Further hindering the Core M chip is its steep limitation on maximum power draw. Combined, these factors mean the T300 will probably never utilize the full potential of its hardware, but at the same time, what resources it is able to claim do an admirable, if inconsistent job at balancing battery life and keeping software snappy and responsive. In my experience I got 5-6 hours of use on a single charge, and that involved web browsing, document editing, video editing in Adobe After Effects and Sony Vegas, playing a few games from Steam, or a combination of such tasks simultaneously. In all of it I rarely felt like I was hitting any serious bottlenecks, and even while under stress from one application the T300 didn't hiccup in the others.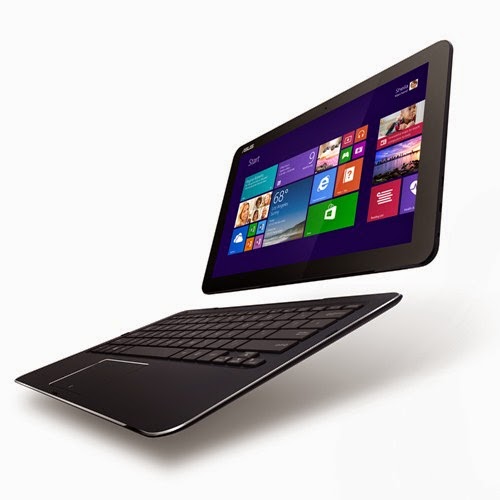 While it is certainly not a gaming laptop, I was even impressed at how well the device handled almost every game I threw at it. Granted, 1080p and any brand of antialiasing are out of the question, and the T300 outright suffered through Unigen's Heaven benchmark at 7-10 FPS even on reduced settings, but at 720p actual games fared much better. I tried a number of last-gen titles and found that they all ran about as well as their console counterparts at roughly the same resolution and detail settings. Unreal Engine-based titles ran especially well, with Mass Effect 3 even being almost playable at 1080p and max settings, sans AA.
Let that sink in: your PS3 or Xbox 360 can be replaced by a tablet. A tablet. You can even go online for some multiplayer action thanks to the T300's fast Wi-Fi module. The kicker here is, again, CPU scaling. One day you might get great performance and the next a lot of stutters. It just depends on the tablet's temperature. Treat it well, and it will give you more frames in return, but this inconsistency can be a bit frustrating at times. It's clear that the device was made with utility value in mind over entertainment value, but even so it ekes out both admirably.
Something for Everyone
All in all, the Transformer Book T300 Chi is an excellent marriage between a tablet and a laptop keyboard, even if a slightly compromising one. It doesn't forget that it's still a full-on Windows PC, and it just might make the user forget that it's actually a tablet in disguise. The Transformer Book attempts to be a one-size-fits-all type of machine, and it mostly succeeds. It's more elegant and usable than Microsoft's Surface Pro and packs hardware parallel to Apple's upcoming flagship MacBook. And at $699 for the lower-end model and $899 for the higher-end model (still not readily available in the US) it even undercuts both competitors by a significant margin.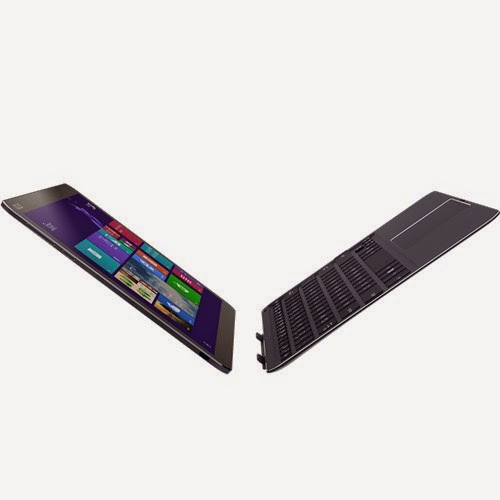 At the same time, the T300's lack of standard ports makes it hard to recommend to someone who just wants a no-frills laptop experience. In that case, Asus's Zenbook UX305 would be a better choice for the same hardware at the same $699 price point in a traditional laptop configuration. It's possible that in its attempt to please everyone the T300 actually alienates a percentage of its target audience, but in truth it shouldn't. Living with Micro-USB isn't as bad as it sounds, having a keyboard with its own battery isn't as inconvenient as it sounds, and having a laptop that's actually a tablet is more useful than it sounds. In any case, the Asus Transformer Book T300 Chi is a solid enough offering to deliver both to those who already know they want its features and even those who are turned off by certain compromises. If you're on the market for a mid-range Windows laptop and think using it as a tablet might come in handy from time to time, the T300 is an excellent way to go.