While TV sets slowly limp from 1080p to 4k and by and large have yet to come down to equilibrium pricing, projectors have also gained popularity as TV alternatives, but with one caveat: most affordable projectors aren't even up to full HD yet, if HD at all. In recent years cheap LED projectors have given projectors new life on the home user market, but at the cost of brightness, pixels, and most advanced features considered standard on higher-end models. Not to mention that while these days practically all projectors brag about being HD, most only accept a 1080p input and then project it at 720p or 480p instead. The BenQ MH630 falls in neither the high-end nor deceptively low-end category, instead offering an affordable set of compromises without sacrificing image quality. And if you're a home user looking to watch movies or play games on the largest display possible, it may just be the best option for you currently out there.
The Unit
The BenQ MH630 was released onto the market late last year as a successor to the slightly more expensive W1070, but while in theory that may make it sound like a step up, in practice it's more just an alternative. Both projectors feature true 1080p output capable of displaying a variety of 3D formats at a 10,000:1 contrast ratio with mostly the same set of inputs and controls. However, the newer MH630 features a brightness rating of 3000 lumens versus the older W1070's 2200 lumens, which in turn allows the MH630 to project images anywhere from about 30-300 inches as opposed to the W1070's more limited 30-230 inch range, and yet it is also significantly more efficient, using a minimum 40 watts less than the W1070. The MH630 also has a longer estimated lamp life, clocking in at 4,000-6,500 hours depending on the brightness setting used—a full 500 hours ahead of its predecessor.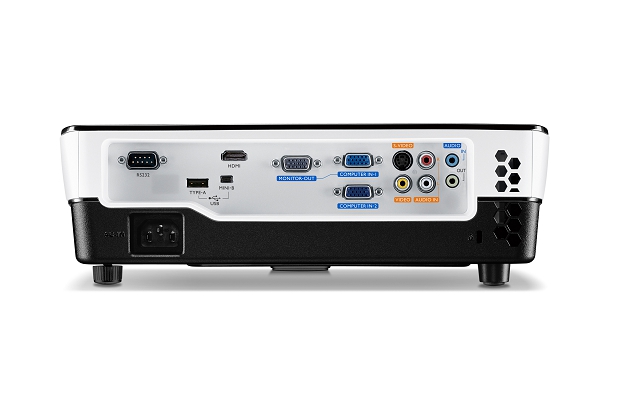 Despite being older and less efficient, however, the W1070 still holds some advantages over its younger brother. The MH630 only has one HDMI port versus of the W1070's two, and the W1070's optical lens shift has been dropped from the MH630 entirely. Neither is a deal-breaker, but with the MH630's lens orientation fixed rather high it is practically a requirement to use it on a low table or ceiling mount, and it would be nice to have the option to adjust the lens for as many scenarios as possible. Further adding to the limitations of both projectors is the lack of a horizontal keystone, meaning there's no way to fix the resulting trapezoid when projecting at an angle from the side. Vertical keystone is present though, so as long as you can get a straight shot at your projection surface fixing vertical trapezoids is easy as you'd expect.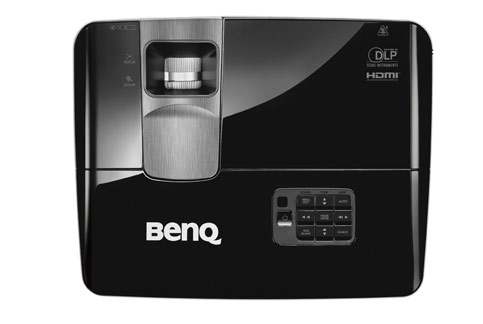 On the bright side, the MH630 has very deep color correction settings and other firmware customization options, all of which can be navigated by the included remote without pointing at the projector unit itself; despite being infrared, it will pick up the remote's signal bouncing off the projection source, making the final setup really feel like a giant TV. The built-in speaker even does an admirable job, with solid bass and treble at very high volume, though for anything more than mono audio you'll need to hook up proper speakers to the MH630's 3.5mm audio output jack.
The Image
But of course, a projector isn't so much about the unit itself as it is the image on the screen or wall. The advantage of a projector is that it can create a very large image from a very small package, but how does that image hold up? In a word, pretty well, but unfortunately there's no way to adequately demonstrate it without experiencing it in person. While it's not quite as sharp as an HDTV due to subtle light bleeding between pixels, the MH630 is easily one of the best-looking projectors in its price range. The colors pop, and the superior amount of detail offered by 1080p is immediately noticeable to anyone who's used lower-resolution projectors before. At the same time though, the bigger the image, the farther back you'll want to be to appreciate it. Great as 1080p is, displaying it at sizes in excess of 100 inches is a great showcase for why we need 4k or greater. Case in point: you will be able to see pixels. That's just inevitable, even on very large LCD panels. But once you get over the depressing reality that 1080p is already insufficient tech, there's really a lot of enjoyment to be had on the MH630. Games look terrific, and with the right equipment can even be played in stereoscopic 3D. Movies are the next best thing to a theater. Even documents look great thanks to 1080p being able to display very small font sizes without losing readability. Web browsing isn't quite as comfortable as just sitting at a desk or using a mobile device, but if you want your web content big the MH630 can certainly handle it admirably. At first I did find myself seeing rainbow artifacts quite a bit, but over time my brain learned to tune them out and now I can't recall the last time I consciously saw one.
It's all easily viewable with the lights on, and really comes to life in a dark room. It may not quite be able to replace a TV for some users, but gaming and home theater enthusiasts will certainly get a lot of value out of the MH630's low price tag and great image. While it does compromise a bit on other features, limiting the setup scenarios it will work under, the result is an affordable package that delivers where it really counts. While users with a slightly larger budget and demand for dual HDMI ports and optical lens adjustment may wish to opt instead for the older W1070 model, for everyone else the BenQ MH630 is easily the go-to consumer projector for home media of all kinds.
Check out the BenQ MH630 on Amazon!
Check out the BenQ W1070 on Amazon!


Not sure if this projector will work for your setup? Click here for a detailed, interactive projection calculator!